Coach Whitney Here!
As we head into 2018 and launch our brand new Taylored Training Specialty Programs I'm very pleased to give you a quick history lesson on one of our new training tools – the Indian club.
Back in September of this year, Coach Taylor travelled to Portland Oregon to work with the incredible Dr. Ed Thomas who is one of the foremost experts on club swinging, having studied and practiced the art since the 1950's.
Ed describes the evolution of club swinging as such:
"Imported European functional physical training systems dominated American physical culture throughout the late-1800s until around 1920. "Working out" was not the goal in those earlier systems."

"Gymnasia were instead schools where instructors taught theory and practical application of progressively more difficult motor skills. Often divided into restorative, martial and educational (school-based) content, these highly evolved systems emphasized rational progression, variety and precision. Noble goals including service to nation fueled the enormous focus, energy and time required to develop optimal physical structure, function and motion. We can trace much of what is now emerging as functional physical training to these early roots, and much more can be mined from the past if or when we begin to fully appreciate the importance of history in reshaping the present to meet future cultural demands."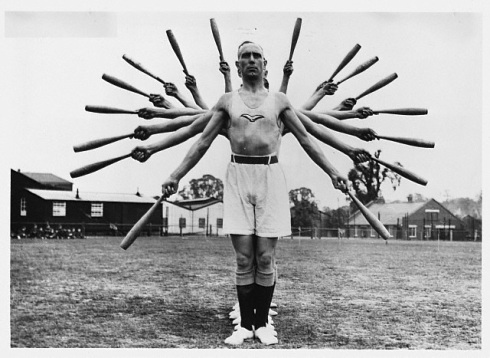 A little More About the History of Indian Clubbing
*Club swinging was twice contested as an Olympic event (in 1904 and 1932).
*Club swinging was a precursor to Rhythmic Gymnastics
*In the 20th century, Indian Clubs began to fade from training and physical education with the rise of sports and games.
What we can Learn from Club Swinging According to one of the Leading Experts in Fitness, Gray Cook
According to Gray Cook, the founder of the FMS (functional movement screen) Indian Club an upper body equivalent of jump rope.  One of the biggest reasons Gray is a jump rope advocate, as are we, is because jump rope forces posture without the need to learn a lot of technique, making it a self-limiting exercise.
The definition according to Cook of a self limiting exercise is " an exercise or activities that naturally restrict progression without some degree of physical adaptation." The human system has the ability to adapt in two unique ways. The capacity to improve its hardware (physical structure) or software (motor control, coordination and pattern refinement) are interwoven and complementary natural forces. At some point in our history, the basic struggle against natural forces was a dominant teacher.  
One of the big reasons we love Turkish get ups versus using machines like the shoulder press is because your body has to work as a coordinated unit to progress through the multi dimensional exercise. Your body has to put together all the moves in a coordinated patten independently on each side of your body to perform the proper movement.
Take the example of a shoulder press machine.  Since the responsibility for changing postures, instantaneous balance reactions and sensory awareness is removed (because you are on a machine and the machines takes care of all of this work for you), the weight can be increased because other responsibilities have been removed.  According to Gray Cook, "when exercise complexity is reduced, the loop between movement perception and movement behavior is reduced."
What has been one of the biggest lessons Coach Taylor brought back from learning from Dr. Thomas?
***We need to return to our roots, embrace the history of physical training and access where we have gone wrong with fitness education.***
Over the past few months Coach Taylor has been diligently working with the clubs and I couldn't be more proud as a partner in his incredible dedication (Yes, even outside in -17 weather…). Looking ahead to the new year we are very excited to launch brand new programming in 2018 that will truly revolutionize the way our members move and feel!
-Coach Whitney